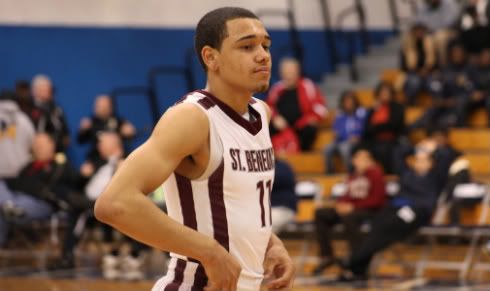 By Michael McAllister
It's rivalry week for the Syracuse Orange. They just finished
knocking off their biggest rival
, Georgetown, Wednesday night, and now face another hated rival on Saturday. Connecticut comes to the Dome, sans Jim Calhoun. But that may not be the biggest thing going on this weekend for the Orange.
Two big-time recruits will be visiting this weekend, and will be attending the Syracuse/UConn game. First is five-star point-guard Tyler Ennis out of St. Benedict's Prep in Newark, New Jersey from the class of 2013. Tyler is a classic point-guard who looks to distribute first despite having very good scoring ability. He has outstanding basketball IQ, and his court vision is excellent. Tyler is the type of player that will pick up the offense quickly, be smart with the basketball, and get his teammates involved. He's also a bigger point-guard at 6'2", which works very well in the zone. Syracuse has had success recruiting out of New Jersey in the past. Recently, Terrance Roberts, Darryl Watkins, and Dion Waiters. St. Benedict's has also produced recent prospects such as Corey Stokes (Villanova), Samardo Samuels (Louisville), Greg Echenique (Rutgers), and Lamar Patterson (Pittsburgh). While a commitment from Ennis is not likely this weekend, a good visit could go a long way to seeing him in Orange. With
Scoop Jardine
graduating this year,
Brandon Triche
graduating next year, and
Dion Waiters
likely to be gone after this year or next, guards are going to be a big focus for Orange recruiting in the class of 2013. Michael Carter-Williams and Trevor Cooney should still be around, but a couple more guards would greatly improve the depth of the backcourt.
The other visitor this weekend is recently reclassified to 2012 five-star center Nerlens Noel. Noel has been the talk of the college basketball recruiting world lately with his reclassification. Despite this move, he's still rated as the #1 prospect in his class. That's how good he is. Noel is the type of rare prospect that can immediately make whichever team he plays for instant title contenders. His shot blocking ability has led some to suggest he's the best shot blocking prospect they've ever seen. Others have compared his game to Bill Russell. While that's obviously premature, the point is this kid is extremely talented. Noel is also an underrated passer, which would fit in perfectly in the Orange's scheme. He's unlikely to make a decision before April, as he'd like to see who declares for the NBA draft. Noel wants to make sure he can play right away, as he's a strong candidate for the "one and done." We already know that Kentucky's Anthony Davis is likely gone after this year, so that leaves a huge whole in the middle for them. But Fab Melo could be gone as well, which would give Noel the opportunity for immediate playing time at Syracuse. Even if Fab Melo were to stay, that does not mean Noel wouldn't consider the Orange. He'd likely split time with Melo in the middle in that scenario. But Melo staying could cause Noel to lean Kentucky's direction. Syracuse does have an advantage, however. Noel and Carter-Williams are very good friends going back to their AAU days. It's possible he could be an x-factor in Noel's recruitment.
Syracuse basketball recruiting has been in a "golden age" of sorts with the consistent top-notch recruits committing to wear Orange. So while most of the focus on Saturday will be on the court as Syracuse takes on rival UConn, remember that things going on off the court could be just as important.