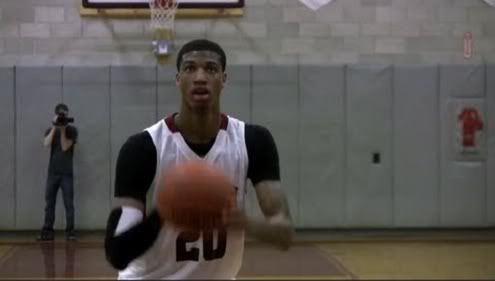 AK Murthy
2014 forward Chris McCullough, of Salisbury, Connecticut, is one of the most coveted players in the country. Nation of Orange spoke with McCullough at the Nike Kevin Durant Skills Academy in Chicago, where he worked out with NBA trainers.
"They had some really good guys in here working with us, they were intense and kept us going," McCullough told Nation of Orange. "It was crazy, I wasn't expecting so much running."
McCullough said the experience was a valuable one for his development.
"It was just like NBA camp, they had NBA guys putting you through NBA plays and drills," he said. "It was a good experience."
In recent months, McCullough said that his shooting has been the most improved aspect of his game.
"My jumper is improving, that's one part of my game that is getting better," he said. "I''ve been putting up more shots."
McCullough named Syracuse, UCLA, North Carolina, Arizona, Kansas, St John's, UConn, and West Virginia as the schools coming after him the hardest.
"The coaching staff is the biggest thing," McCullough said of his interest in Syracuse. "They do really well with players that have length like I do."
At 6'10, McCullough has the height to play in the post and the versatility to step away, but said it doesn't matter what position he ends up playing.
"I hope I can play the 3 but I can play both the 3 and the 4 easily," he added.
Follow Nation of Orange on twitter
Like Nation of Orange on Facebook