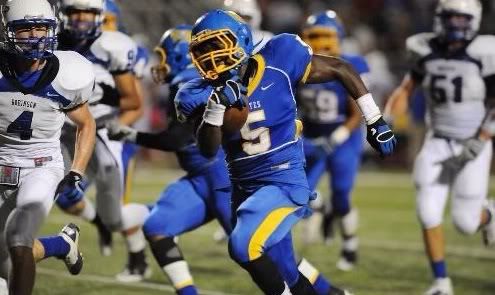 By Michael McAllister
2013 running back Randy Gober out of Waco, Texas
spoke with us a few weeks ago
. At the time, he said he was very high on Syracuse and that some coached had expressed interest in him by contacting a scout. Gober was expecting to hear from a Syracuse coach directly soon. That hasn't happened yet.
Gober tell us that Syracuse hasn't been in contact with him directly yet. "I think they aren't in touch with me because they think I won't come to their school. They don't know I got some family that stay down there."
The lack of contact hasn't deterred Gober's interest in the Orange, however. "If their running back coach ever called me and told me they are really offering me, I would commit." Gober said he's ready to commit to Syracuse right now if they offer.
Gober has been very busy lately. On June 3rd he attended a Baylor camp, and on June 8th he attended a camp for Texas State. Gober said he performed well, and ran a 4.53 40 and 4.40 shuttle. Gober did say, however, that neither Baylor nor Texas State didn't say anything to him or give him feedback on his performance. He does, however, say Texas State likes him a lot.
Despite attending two camps already, Gober plans to attend several more. He told us camps for North Texas, Houston, TCU, SMU, and Texas are in his future.
Follow Nation of Orange on twitter
Like Nation of Orange on Facebook
Photo credit: Randy Gober's Facebook Page