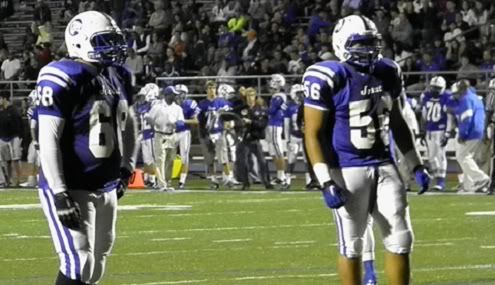 By Michael McAllister
UPDATE: Ruff tweeted out today he is committing to South Florida. Below is our conversation with him a few days ago.
Cameron Ruff (#68 in the above picture) is a 6'4 295lb offensive lineman prospect out of Tampa, Florida. He holds a slew of offers, including one from Syracuse. Recently, we spoke to the prospect about where his recruiting stands, his game, and his interest in Syracuse.
"I'm the type of player that strives for perfection in my stance and in whatever I do on the field," Ruff said. "I have to know what every person on the line is doing so I can help out my teammates. I always watch and study film on myself my own so I know who I am going against and how to beat him. Like what kind of defensive rusher the person is. Or if I'm on defense I look to see what kind of steps the offensive player uses and the stance to find flaws and take advantages from it. I'll say my weakness is my strength because striving for perfection also messes me up from time to time. As if my stance is not correct I will try to change it but changing it also affects the way I block. On the offensive line sometimes I think too much and confuse myself. But I try to move on and make the next play and forget about the mistakes during the game. I focus on practice and how to get better."
Ruff says he currently holds offers from Syracuse, UConn, South Florida, Ohio, Iowa St, Purdue, Cincinnati, Samford, Furman, Florida-Atlantic (FAU), Florida-International (FIU), Bowling Green, and Middle Tennessee. Wake Forest, Auburn, Yale, and Miami have also shown interest. Of those schools, Ruff says FAU, FIU, Iowa St, Purdue, Wake Forest, Samford, and South Florida are recruiting him the hardest. He does not have a current top 10 yet, however.
Greg Adkins is the primary recruiter from Ruff, who was last in contact a couple weeks ago. "He says that he loved my aggressiveness off the ball," said Ruff about Adkins. "And he loves the tenacity I play with."
Ruff said Syracuse is definitely an option for him. "Even though they didn't have their best season last year, I am still impressed with their program and love the way they play," he explained. While Ruff has not taken a visit to Syracuse yet, he has a little inside information into the program.
"I do have a friend that plays for them," Ruff said. "He tells me about the program and school. It's Jeremi Wilkes, #28 free safety. He just tells me about the way the program is run and about the school and environment. Yeah he would love for me to join him." Ruff said he wants to get up to visit the Syracuse campus at some point, but has to work that out with his parents.
He has taken a visit to FAU, and camped at South Florida. He is hoping to be able to attend a Wake Forest camp, but nothing is immediately scheduled. Ruff says he is looking for a school with a good foundation academically and has a "home-like" environment.
Follow Nation of Orange on Twitter
Like Nation of Orange on Facebook