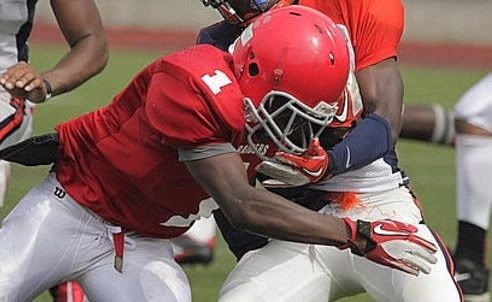 By Michael McAllister
Naby Sylla is a defensive back in the 2013 class out of Port Richmond high in Staten Island. At 5'9 165lbs, he says he runs a 4.6 forty. Sylla is very interested in Syracuse, and is hoping to receive an offer.
"My strengths are tackling and getting interceptions," Sylla explained. "My weakness is my strength." Sylla is one of the better defensive back prospects in New York City, despite being slightly undersized. He is a ballhawk with a knack for creating turnovers. He had five interceptions last season.
While he does not have any offers currently, he has been receiving interest. "I have interest from Rutgers, Albany, Fordham, Villanova, and Marshall," he said.
Sylla said Syracuse has been in contact. They sent him a letter letting him know he was on their radar, and he attended one of their camps. But still, an offer has eluded him. Still, he remains very interested in the Orange. "I love the coaching staff and I love the campus," Sylla explained. "And one of my homeboys goes there." He was speaking about incoming freshman Alvin Cornelius. Sylla says Cornelius has told him that the staff treats you well and Cornelius loves it on campus.
Sylla is ready for the Orange if they are ready for him. He told Nation of Orange he's ready to commit to Syracuse if he receives an offer. Syracuse may only have one spot open for a defensive back, so it will be interesting to see if Sylla stays on Syracuse's radar.
Follow Nation of Orange on Twitter
Like Nation of Orange on Facebook
Photo credit: New York Post